Not Your Grandmothers Scarf!
Are You Ready To Be WRAPPED?
Best Seller
The Shoulder Shrug
A Scarf with Sleeves.
Comes in 5 colors.
Style in many different ways.
Shop NOW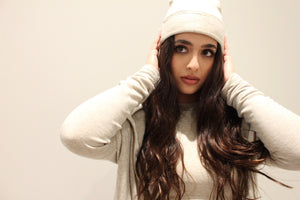 Best Seller
Cloud Lounge Wear
Made from French Terry Tencel.
Try it on…you wont take it off!
Shop Now
Hello
Who We Are
OUR MISSION
Our mission is to inspire women of all ages to look their best in timeless pieces that are stylish in design & crafted for comfort using the softest, most breathable fabrics; all while trying to do it with care for the environment. Sustainability and Slow Fashion are the pillars of our brand.

FEMALE EMPOWERMENT
Our Co-Founder & Head Designer is a Mom, a Psychologist & Animal Lover. We are crusaders and advocates of Mother Earth, women empowerment and artistic freedom. Expressing ourselves through our clothes creates an artistic impression of who we are, what we love and how we move.

ECO-FRIENDLY
We are your source of sustainable shrugs, scarves & unique clothing items. Whether our own brand or a thoughtfully curated one…you can feel good about your purchase. In addition, We employ local vendors, pay premium prices to make sure that our partners are making livable wages and use dead stock, high quality fabrics to ensure that the pieces you buy from us will last a lifetime. Click below to learn more about our preferred fabrics.
Learn More
Just Shop
I discovered Wrapped Clothing recently and was beyond impressed with the quality of the pieces in my order. The shoulder shrug and cloud collection pieces I ordered are amazingly soft and the fabrics are some of the best I've felt against my skin! 

Johanna @MamaNaturelle - Fashion Influencer/Creator
The products are beautifully made and a purchase for life. They defy fashion fads and are a staple wardrobe investment to wear for years. Your ethics and core beliefs truly align with what I look for when investing in new wardrobe staples.

Heidi @Duchessofthrift - Sustainable Blogger and Stylist
Joel Smallbone, a musician, actor and two-time Grammy Award Winner struts our exclusive Men's Neck Roll designed for the Pre- Grammy's Celebrity Party.

-Joel Smallbone - Public Figure
Janeshia Adams-Ginyard is an Emmy-nominated American actress, stuntwoman and professional wrestler. She is best known for her role as Nomble, in the movie Black Panther. She is pairing our Navy Shoulder Shrug with her outfit for some pop of color.

-Janeshia Adams-Ginyard - Public Figure